Discover asheville area's premier climbing destinations
Cultivate Climbing Guides
Explore the scenic beauty of Western North Carolina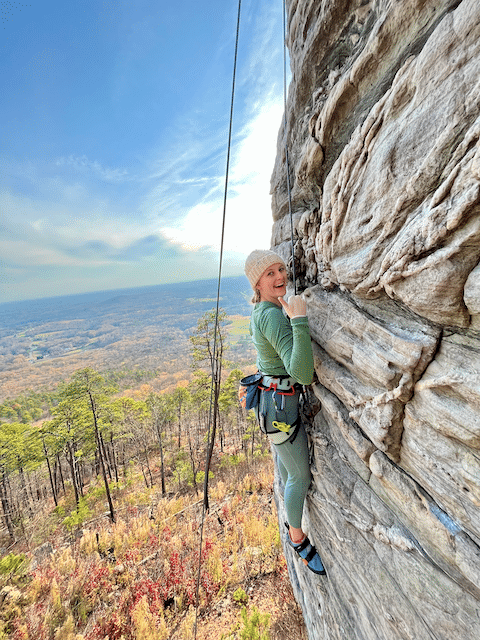 Every Climb. Every Skill Level.

Crafting Climbs to Match Your Rhythm and Resolve
Rock climbing is as diverse as the people who love it, and so are the experiences we curate. We recognize that every climber brings a unique rhythm, skill set, and aspiration to the rock face. That's why we don't believe in one-size-fits-all.
For the Novices: Embarking on your first climb? We'll ensure you're comfortable, confident, and reveling in every moment as you discover the magic of outdoor climbing.
For the Intermediate Climbers: You've tasted the thrill and are hungry for more. With us, you'll refine your skills, learn new techniques, and conquer more challenging routes.
For the Seasoned Ascenders: Seeking that next adrenaline rush or that elusive crux? Our experienced guides have the local beta to lead you to the climbs you've dreamt of.
For Everyone: Safety, of course, remains paramount. As AMGA accredited guides, we're trained to ensure every climber's experience is safe, no matter the skill level.
Experience, Expertise, Adventure

Asheville's Longest Running & Most Trusted Guide Service
5 Star Rating On GooGle & Trip Advisor!
Stories from Unforgettable Journeys
Took a trip out to Rumbling Bald with Trevor today with my 11 y.o. daughter. We had an excellent time. Trevor was very knowledgeable and made the day safe and fun. I got 4 climbs in, and my daughter managed 3 with a half-day trip. Would highly recommend this service!
We went out to Rumbling Bald with Jamar and had an awesome day of trad climbing! Jamar helped make our first outdoor climbing experience an incredibly chill and memorable one. He happily answered all our questions, and made sure we felt comfortable all the way. Our party included an intermediate indoor boulderer and two beginner climbers. Jamar gave use the chance on a half day trip to climb a variety of different routes to match our skill and interest levels.
We've done two trips, have loved both and will be back again.The guides are knowledgeable, skilled, easily going and fun and they really personalize the trip to your skill level and interests. We always felt completely safe with them and had a blast. Highly recommend!
We had a fantastic day at Looking Glass thanks to our guide Josh. He was an extremely knowledgeable climber and went out of his way to make our experience memorable. Highly recommend this service.
I booked a full day of private instruction and received a master class in trad climbing. I had high expectations, but Danielle delivered exponentially farther than I had imagined. Her depth of knowledge and passion to teach made the information retainable. Absolutely great, from customer service through execution of the plan. Perfect and thank you.
Dreaming of the Summit? Let's Chat!
Please fill out the form below or email drew@cultivateclimbing.com to be put in touch with an expert rock guide to learn more about our trips, classes, and programs.